After the opening of a second 100% automated SMT line, we are opening a selective brazing line for through-holes with the acquisition of a Ersa model Ecoselect 4 selective wave machine.

The electronic board prototype manufacturing process differs from the series assembly. After having invested in a Jetting machine more adapted to the production of small series, we make the choice to invest in a selective wave machine for the soldering of through hole components. The goal remains the same: to assemble boards as quickly as possible with industrial quality.

How does a selective wave work?

The principle is to solder through hole components from below the board. A molten tin nozzle that moves beneath the board, deposits alloy directly on the pins of the component. The conveniences of this technique are :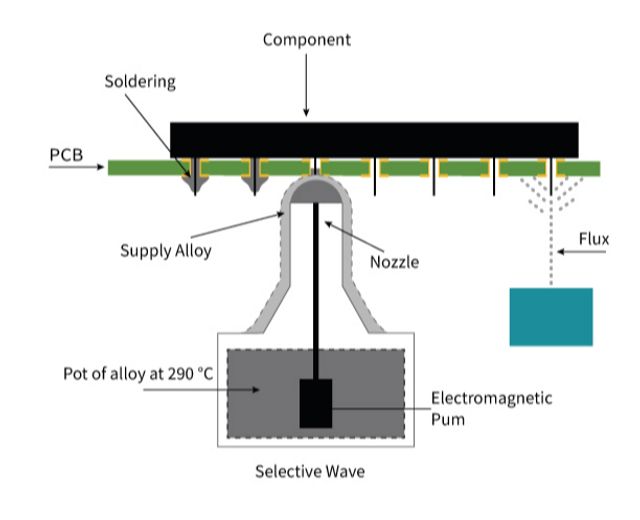 Process steps
First of all, you have to program the machine and indicate the zones to be fluxed and brazed, and then adjust the configuration parameters (displacement, pump power, waiting time, etc.). This programming is done from a photo made by us or with the implementation map of the board.

Then comes the "Fluxing" where a jet of flux is deposited on the parts to be soldered.

The board is then heated to reach a temperature of approximately 110 ° C.

Once all these steps are done, the selective wave can come to solder the pins of the components.
Technical constraints to be respected

The selective wave is used in industrial production for large series, it imposes some constraints to respect :
A minimum distance between SMT and through hole components of 2mm between each pellet.

Through-holes should be located only on one side if possible.
We remain faithful to our objectives: to make small series of industrial quality. This investment completes the first one industrial chain specifically dedicated to the prototyping of electronic boards.

https://www.youtube.com/watch?v=IdqHxXKRhbc&feature=emb_title